Residential HVAC Services
Serving Harford County, Baltimore County, Cecil County, and Surrounding Areas
Anchor Mechanical in Forest Hill, MD is your local HVAC contractor. We are a team of experienced technicians who are passionate about what they do. Our goal is to provide HVAC services in Harford County that keep your home or business comfortable and safe. With the high-quality work that our team stands by, your HVAC systems will work efficiently as designed, and for a long time. We are willing to answer any questions about our services and the systems we work with every day. Learn more about our services below.
Your Harford County Service Team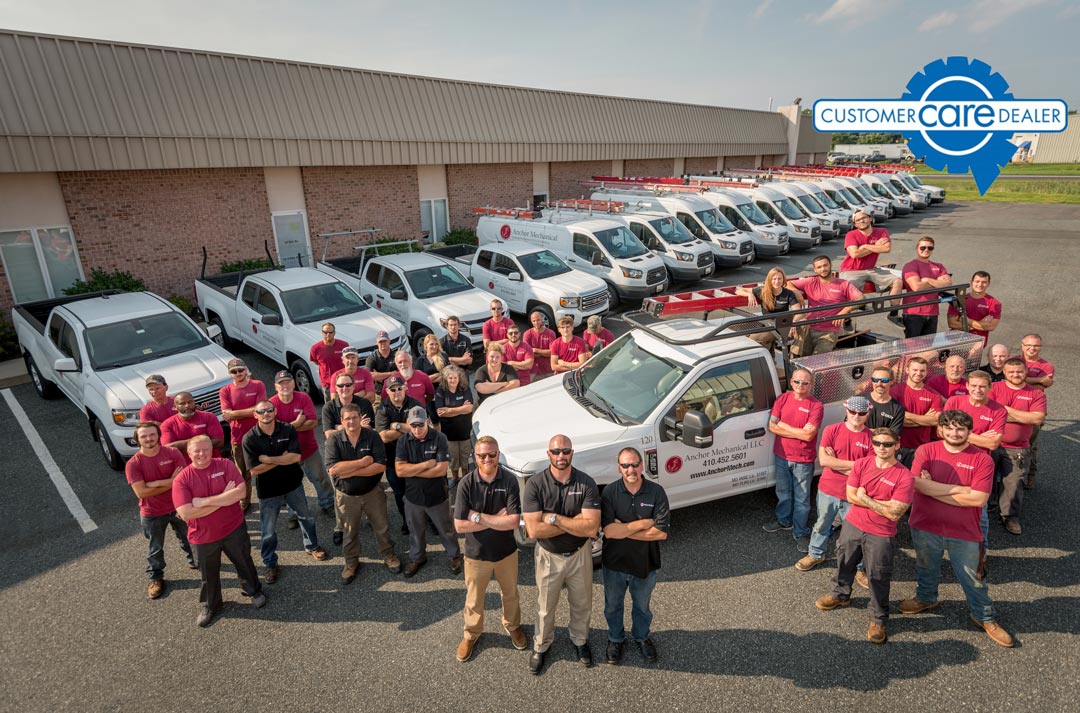 Residential HVAC Services
in Harford County
To keep your home's mechanical systems operating at peak efficiency, it must be properly maintained. We provide annual maintenance agreements designed to eliminate surprises, minimize repair bills, and extend the life of your heating and cooling systems.
For replacement and equipment upgrades, we begin with a whole house inspection to determine the proper size equipment for your home. When necessary, our qualified sales engineers perform a certified heat load analysis on your home. A properly sized unit will keep your system running at peak efficiency and save you money over the course of a year.
HVAC Installation, Repair and Replacement Services
Preventive Maintenance: A regularly maintained HVAC system is integral to preventing future problems. This preventative maintenance can also save you money in the long run.
Furnaces/Heat Pumps/Boilers: Our team will inspect these systems to make sure that they are heating your home or business correctly.
Air Conditioning Maintenance and AC Tune-Ups: If your air conditioning unit is not working, we can help! We are your trusted air conditioning contractors offering emergency services. If your units are blowing hot air or not blowing air at all, they need immediate repair.
Indoor Air Cleaners and Filters: Air filters and purifiers can eliminate odors and trap allergens. Dust, pollen, mold, smoke, fur, and other irritants don't stand a chance against a properly maintained air filter.
Thermostat and Carbon Monoxide detector installation and repairs: Our technicians can install and help maintain thermostats to keep your business comfortable year-round. If you notice that the room temperature and the setting do not match, call us and we will find a solution.
Water Heater Replacement and Maintenance: Water heaters require maintenance as they need to be flushed out annually. This is done to prevent sediment build-up.
Other residential Services:
Call Anchor Mechanical Today
If you need HVAC installations, repairs, or maintenance near you, call Anchor Mechanical or e-mail us to learn more at info@anchormech.com. To request a quote, fill out the form on our contact page, and we will get back to you. Our technicians are passionate about helping clients receive high-quality services. We serve clients in Central Maryland including Harford County, Baltimore County, and Cecil County.
We Are Here to Answer Your Questions
Feel free to drop us a line anytime, and someone will respond as soon as possible.
Call us at 410-452-5601 for the MD area or 484-452-2652 for the PA area or email us.
We'll quickly connect you to the right person!