Thermostats & Carbon Monoxide Detectors
Serving Harford County, Baltimore County, Cecil County, and Surrounding Areas
At Anchor Mechanical, we can install, repair, and replace your home's thermostat. Your HVAC system puts in a lot of work to provide cool or warm air, but it needs to know which one you want it to do. That's where thermostats come in. Thermostats are extremely important to your heating and cooling system.  You set them to the temperature that is most comfortable for your family and they trigger your unit to begin heating or cooling your home.
When something is off with your thermostat, this affects the health and safety of your family. That's why we provide comprehensive thermostat services. Our Anchor Mechanical technicians program and wire your thermostat so that it provides the most accurate temperature triggering for your HVAC unit.
When you suspect you need a new thermostat for your home or if you think your current thermostat is not performing as well as it used to, simply request a quote online. Anchor Mechanical is your trusted local HVAC services partner for residential and commercial properties.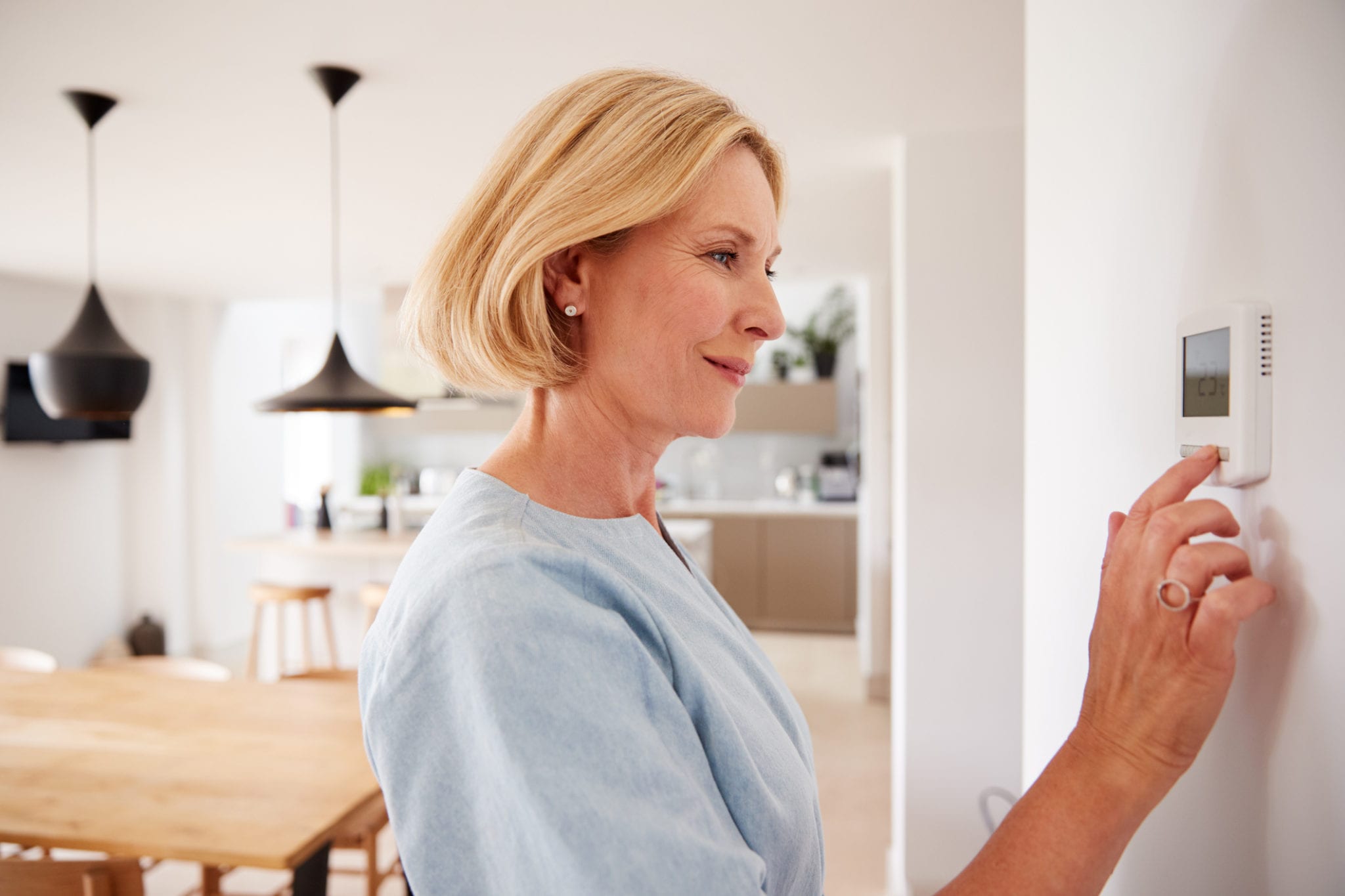 Thermostat FAQs
We are happy to answer any questions you might have regarding our thermostat repair, installation, and replacement services. Here are some answers to frequently asked thermostat questions.
Should I install my own thermostat?
We do not recommend installing your own thermostat. The electrical wiring process produces safety hazards for you and your family. Improper installation can damage the electrical system and lead to costly repairs. Our team is highly experienced in thermostat installation. You can rely on them to get the job done and give you the peace of mind of a safe installation.
How do I know if my thermostat isn't working properly?
There are a few signs that your thermostat isn't working. If you notice that the heat or cooling isn't turning on in response to changing the thermostat's temperature, there's a good chance it's broken.
Additionally, if your heating or cooling will not turn off, this is another sign that your thermostat is malfunctioning and not communicating with your system. You may also notice that the room temperature and the setting do not match. This is another symptom of a bad thermostat.
How long do thermostats last?
Most thermostats do not have a set lifespan, but you should expect yours to last at least ten years with proper maintenance.
What are CO2 Detectors?
A CO2 detector is a device that detects the presence of carbon monoxide (CO) gas to prevent carbon monoxide poisoning. These detectors should be installed at each level of a home and five to twenty feet from furnaces, fireplaces, or hot water heaters as these are sources of carbon monoxide.
Having a properly functioning CO2 detector can protect you from carbon monoxide poisoning, which can cause dizziness, nausea, headaches, and confusion. At Anchor Mechanical, our technicians are able to install, maintain, and repair all kinds of CO2 detectors to keep you and your family safe.
Can heat set off the carbon monoxide detector?
Heat can set off carbon monoxide detectors in homes. This may occur while cooking, boiling water, using a gas stove, or oven. They release a small amount of CO but it can be picked up by a detector sometimes.
How many carbon monoxide detectors should you have in your house?
In each level of your home, you should have at least 1 carbon monoxide detector.It is important to place them outside of each bedroom, or anywhere people may sleep.
Where do you mount a smoke and carbon monoxide detector?
The best place to mount a carbon monoxide detector is outside of bedrooms. They should be placed approximately six inches below the ceiling or six inches from the wall if mounting on the ceiling.
We Are Here to Answer Your Questions
Feel free to drop us a line anytime, and someone will respond as soon as possible.
Call us at 410-452-5601 for the MD area or 484-452-2652 for the PA area or email us.
We'll quickly connect you to the right person!