Air Conditioning Installation
Serving Harford County, Baltimore County, Cecil County, and Surrounding Areas
Do you have an old air conditioning unit? Maybe you want to try central A/C for your home. At Anchor Mechanical in Harford County, MD, our technicians are trained in the installation of air conditioning units to keep the temperature of your home comfortable.
Installing a new AC unit before the summer heat begins can ensure that you do not suffer through warm or uncomfortable days and nights. Anchor Mechanical can install a new system or service an existing unit that is not functioning properly.
We install all major brands and are a customer care dealer for American Standard. You can be sure that our technicians will efficiently install your new A/C unit in Harford County.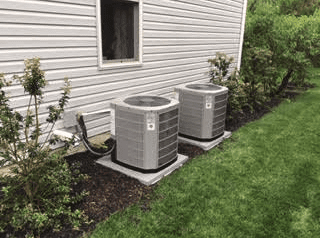 Types of Air Conditioners in Harford County, MD
Split System Air Conditioner
One of the most popular types of air conditioning systems, a split system uses indoor and outdoor components to cool your home. The exterior component condenses cold air to be sent through the tubing and into the residence. The interior component distributes the cool air through a fan. We specialize in providing affordable split system and central air conditioner systems in your area.
Energy-efficient Heat Pump System
Heat pumps are a type of split system that cools your house in the summer and heats it in the winter. Depending on one's preference, heat pumps may use an air source or geothermal method to release or pull air or heat from outdoor air or the earth. Air source heat pumps release or extract heat from the outdoor air. Geothermal, also called ground source, pulls or deposits the heat into the earth. Learn more about our heat pump services.
Central Air Conditioners
This type of A/C unit is able to cool each room in your house quietly and efficiently. Central air conditioning units are made of a condensing unit outside the home and the evaporative unit located next to the furnace. The condensing unit generates cool air and the evaporative unit then pushes the cool air throughout the home by using the furnace duct system.
Ductless Split Heating and Cooling Systems
When a central air conditioning system is not viable in your home we can install a ductless split system. Like central AC systems, mini splits have two main components: an outdoor compressor/condenser, and an indoor air-handling unit. A conduit, which houses the power cable, refrigerant tubing, suction tubing, and a condensate drain, links the outdoor and indoor units. Call Anchor Mechanical for all of your ductless heating and AC service needs in Harford County.
Air Conditioning FAQs
How often should I replace my air conditioning filters?
Air filters are made differently and produced with different quality. Because if this, you should follow the recommended replacement schedule that each filter comes with. Some customers choose to use reusable washable filters. These types of filters should be cleaned at least once a month for optimal efficiency.
Are there any air conditioning systems that are safe for the environment?
Yes. There are several Eco-friendly air conditioning units out there from major manufactures. Eco-friendly air conditioning is becoming more widespread and affordable. Two-stage compressors and geothermal heat pumps help make your units more energy efficient. We can provide units that are ENERGY STAR certified.
How do I know if my air conditioning unit is large enough to efficiently cool my home?
Many think that having the biggest air conditioning unit will efficiently cool their home, although this is not always the case. A replacement air conditioning system should always be sized to fit your property. Our experienced technicians will  calculate the proper size of unit needed for your home, and make only the most relevant recommendations.
Can you put AC in a house that doesn't have it?
If your house does not have an AC or ductwork installed your best option is to get a ductless mini-split AC system. This gives you the ability to cool your full house without needing to install ductwork.
Call Anchor Mechanical Today
Anchor Mechanical can solve all of your HVAC service needs near you. Our team installs A/C units for customers in towns and cities near you in Harford County, Maryland. We service Central Maryland including Harford, Baltimore, and Cecil Counties. Call our experienced technicians today at info@anchormech.com. You can also request a quote on our website.
We Are Here to Answer Your Questions
Feel free to drop us a line anytime, and someone will respond as soon as possible.
Call us at 410-452-5601 for the MD area or 484-452-2652 for the PA area or email us.
We'll quickly connect you to the right person!