Furnace Repair
Serving Harford County, Baltimore County, Cecil County, and Surrounding Areas
When something goes wrong with your furnace, we are here to help you restore heat to your home. Anchor Mechanical serves your residential and commercial HVAC service needs with superior customer service and repairs. We provide 24/7 emergency service to help you when you need us the most. Our team understands that furnace issues require immediate attention, especially when the health and safety of your family are at risk.
You can rely on Anchor Mechanical to evaluate your furnace, inform you of any damages, and repair them promptly to restore heat to your home. In addition to dealing with furnaces that are not heating enough or at all, common furnace repair calls we make involve dirty filters, malfunctioning thermostats, or frequent cycling. There are a wide variety of issues that can come up with your furnace, but rest assured our technicians come prepared to resolve these issues. We also provide routine furnace maintenance to help you prevent costly repairs down the road, and new furnace installation if you need a new one altogether.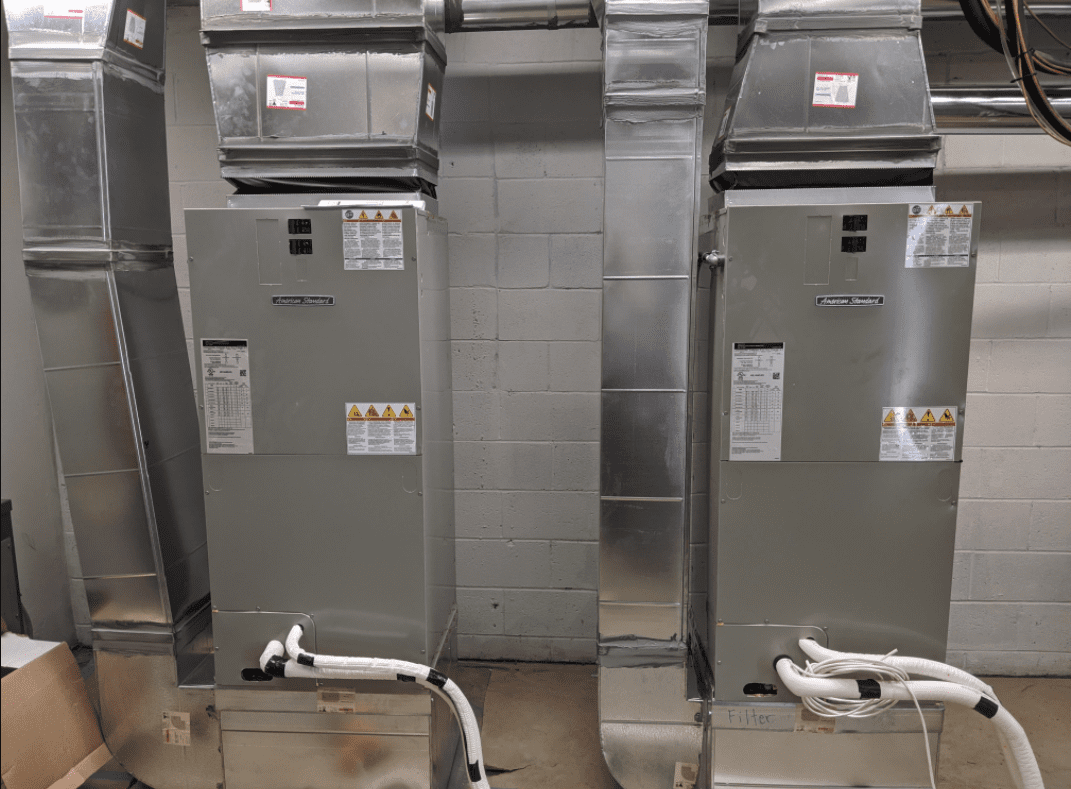 Furnace Repair in Harford County
We are happy to answer any questions you might have regarding our furnace repair services. If you would like to schedule an appointment for a furnace repair, fill out our quote request form. Here are some answers to common questions we get asked on furnace repairs:
What can I do to prevent unexpected issues with my furnace?
We offer furnace maintenance appointments to our customers. During these appointments, we inspect your furnace and provide minor repairs for small issues so that they do not become major issues later on. We recommend scheduling a maintenance appointment once a year, ideally before temperatures begin to drop. This will help prevent unexpected issues with your furnace.
What happens if my furnace is beyond repair?
Our team will do our best to repair your furnace. However, some furnaces have already aged significantly or damaged beyond repair by the time we arrive. If this happens, we can consult with you on furnace replacement options. We will help you pick a furnace that meets all of your family's and your home's needs. Then, we will install the furnace for you with our furnace installation services.
Should I try to repair my furnace myself?
We do not recommend trying to repair your furnace yourself. Furnaces often pose combustion or gas-related safety hazards,  which can put you at risk. Our technicians are highly trained in furnace repair, giving you the piece of mind that your furnace has been restored properly. At Anchor Mechanical, your family's comfort and safety is our priority.
What causes a furnace to stop working?
The most common reason a furnace stops working is dirty air filters. Air filters may become blocked overtime by dust, dirt, hair, etc. The blockage may stop air flow causing the furnace to overheat and stop working.
How do you know if your furnace is dying?
There are three main signs that your furnace is dying or may die soon. The first is age. Furnaces have a 15-30 year lifespan. If your furnace is older than 15 and is starting to not function properly it may be a sign that it is dying. If you hear strange noises coming from your furnace, or notice that your heating bill is going up it may be a sign that your furnace is not working at its full capacity and may die soon.
What to do if the furnace stops working?
If your furnace stops working the first thing to do is to check and make sure that your thermostat is turned on. If the furnace is producing heat you can try to reset your home's circuit breaker. If your furnace is not producing heat check its filter to see if it is blocked.
We Are Here to Answer Your Questions
Feel free to drop us a line anytime, and someone will respond as soon as possible.
Call us at 410-452-5601 for the MD area or 484-452-2652 for the PA area or email us.
We'll quickly connect you to the right person!