Furnace Installation
Serving Harford County, Baltimore County, Cecil County, and Surrounding Areas
Your furnace keeps you and your family warm when you need it the most. If you find that you need a new one, Anchor Mechanical is here for you. We install furnaces for families all over Harford County and surrounding areas near you. Your comfort is our top priority. Not only can our highly experienced technicians install your furnace for you but they can also help you pick the furnace that is the best fit for your home.
If you are unsure of the furnace replacement that you need, we can help you pick one that is energy efficient and compatible with your home. Once you have selected a furnace, our experienced technicians will install it promptly for you. Our HVAC professionals are highly trained and will respect you and your home as they get the job done. We never take a one-size-fits-all approach to furnace installation. Instead, we consider your family and your home's needs to ensure that the final product you are left with is one that you can rely on for many years to come.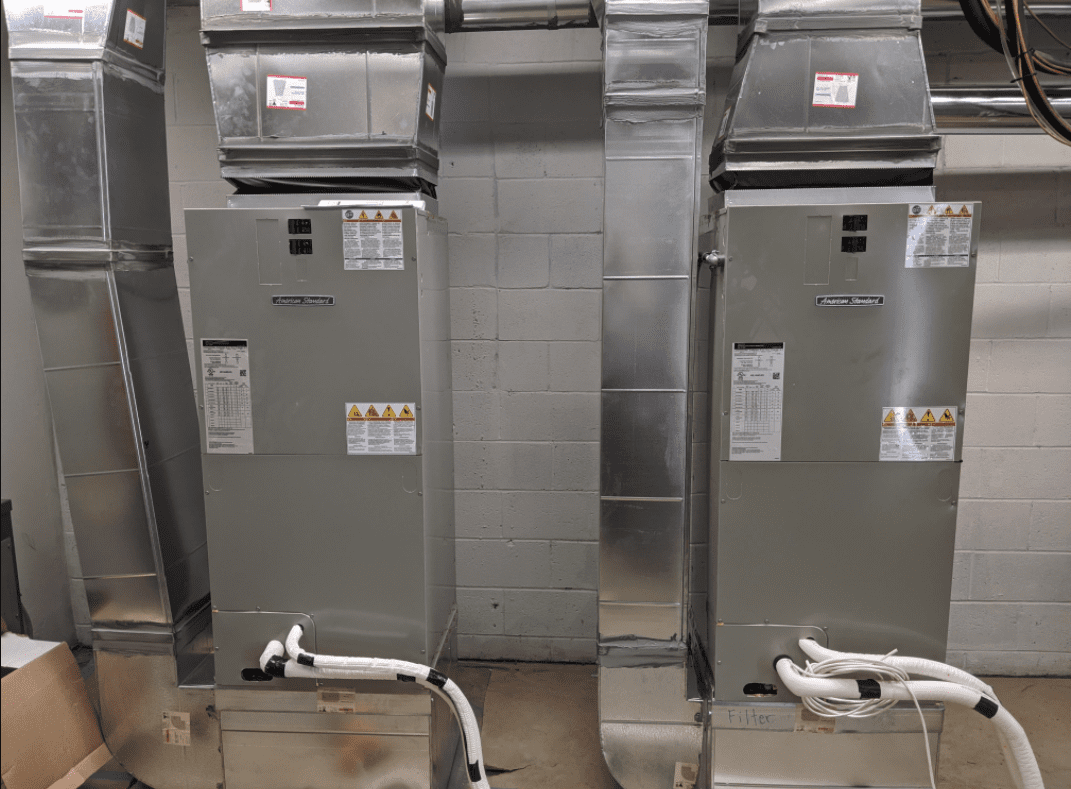 Furnace Installation in Central Maryland
We are happy to answer any of your questions regarding residential and commercial furnace installation, or HVAC service needs. If you are interested in replacing an old furnace or upgrading to a new one, please request a quote online. For your convenience, here are some answers to common questions we get asked below.
How does a furnace work?
Mostly, this depends on the energy source of your furnace. The furnace transfers heat to the air, usually using either gas or electricity as fuel, and then sends the heated air through the ductwork of your house which will come out of your vents.
How do I know I need to replace my furnace?
As your old furnace ages, you will notice that it is taking much longer than it should warm you home. Additionally, you might hear some loud noises from your furnace which signifies that it is aging and struggling to generate heat.
If you notice any rusting around your furnace, this is also a sign of age. Most of all, keep an eye on your energy bill. The more your furnace struggles to heat your home, the more money you will pay on your energy bills. This is your best warning sign that you need a new furnace.
Should I install my furnace by myself?
You can install a furnace by yourself, but we don't recommend it. Our anchor technicians are highly trained in furnace installation and are dedicated to providing and delivering the best quality products and services. A lot can go wrong with furnace installation, which can leave your family without heat. We suggest letting out team help you so that you get the peace of mind that your furnace was installed correctly.
How long should my furnace run for?
Most furnaces run between 10-15 minutes per cycle. Some furnaces may run multiple times an hour to keep your house warm. The frequency and length of time your furnace runs varies depending on the temperature outside, the temperature inside, and the desired temperature of your house.
How long does it take to install a furnace?
On average, when installing a residential furnace it takes between 4-8 hours. Depending on electric or gas line modifications it may take longer. We take our time to double-check all of our installations because we would rather be safe than sorry when installing your furnace.
We Are Here to Answer Your Questions
Feel free to drop us a line anytime, and someone will respond as soon as possible.
Call us at 410-452-5601 for the MD area or 484-452-2652 for the PA area or email us.
We'll quickly connect you to the right person!